One of my friends and fellow bloggers, Grace A. Johnson, recently gave me an e-copy of her novel, Held Captive, and, as you can guess, I read the whole thing over the span of a few days.
And guess what? It was amazing.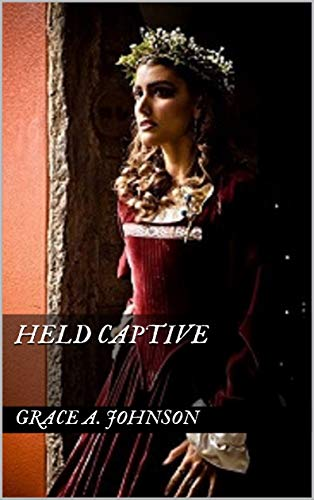 Held Captive is a historical romance novel. And while historical romance isn't typically my favorite genre to read in, Held Captive completely surpassed my expectations. Well-written, imaginative, and suspenseful; I absolutely loved it.
So I decided I should write a review. I want to give you readers the benefit of knowing how good this book is, as well as being aware of things like adult content and what age this book is appropriate for. I'll go into all of that in this blog post, outlining everything you need to know about Held Captive. (And it's spoiler-free!)
So let's get started!
Writing Quality
Everyone: Grace A. Johnson is such a skilled writer. And I'm not just saying that. Her books are literally professionally written. The story flows well, the plot is intricate (but not in a confusing way), her characters are amazing… she just did a great job on Held Captive.
First, let me go over the characters in this book. All of them had distinct voices and personalities, which blew my mind away. Every (important) character developed in some sort of way. And the main character, Rina, had such a well-written arc. All the development was perfectly paced and nothing seemed out of place.
Also, the plot of this book was phenomenal. There were lots of twists and turns throughout the story, and there wasn't a single moment I was not in suspense. (Considering the fact that it only took me three days to read it. THREE DAYS. FOR A 3000-WORD NOVEL. Am I crazy, or what?) The suspense in this story was killer. But not only that, the plot also worked. There were no loose strings at the end of the story. There were no unanswered questions, that I could see at least. Johnson did an amazing job of keeping everything tied together, while also leaving a cliffhanger at the end. Wow.
The actual writing within the story was great, too. The whole story flowed well, and there were no interruptions. There were, however, a couple of typos within the first few chapters. Other than that, it was fine. The descriptions, especially, blew me away with how vivid Johnson was able to write them.
The only thing I wasn't as keen on was how Held Captive switched POVs a lot in first person, and even into third person at times. Now, I don't mind switching first-person POVs at all. But the way it was done in this book was rather inconsistent. I would have preferred if the book had stuck to a pattern instead of just switching POVs whenever it seemed right to do so.
But other than that, the writing quality of Held Captive was phenomenal. Everything about it was enjoyable, and I really admire the thought and skill that was poured into this novel.
Themes/Messages
The themes in this story also were amazing. Again, Rina's character arc flowed really well and left readers with an ultimate message to cling to. Some of the main messages I noticed in the story was redemption, forgiveness, and love.
I also love the morals in this book. Sin is displayed clearly, but it's displayed clearly as wrong. Some books gray the lines between right and wrong, but Held Captive did a great job of distinguishing the two and giving a good message.
Overall, Grace A. Johnson did super well with her themes in this story and left me feeling inspired and empowered.
Sensitive Content
While Held Captive is an amazing book, it does have plenty adult content in it.
The first thing to be aware of is romance. And there is lots of it. (It is in the historical romance genre, after all.) Physical attraction is described thoroughly, but also attraction to spiritual attributes, which I appreciated. However, there was a bit more sexual content than I would have liked. No scenes, of course, which I am grateful for. But there were indirect mentions of sex, and also some mentions of illegitimate childbirth. The way it was written, it was clearly shown as wrong (which I really appreciate), but just know that this book should probably not be read by younger kids for this reason.
The kissing in the book was also more descriptive than I liked, but again, this is something that older kids/adults can handle and just shouldn't be read by younger kids.
There was also some violence, but really nothing at all descriptive that I noticed. The main character is a pirate, so she has murdered people, but again, this is clearly displayed as wrong (especially later in the book), and the main character feels guilty about it. So there is really not much to worry about violence-wise.
And since this was a historical romance, there was absolutely no magic, which I also appreciated. Nothing to worry about there, either.
Overall Thoughts
Star rating: ⭐⭐⭐⭐⭐
Reading level: 5th grade+
Age recommendation: 13+
Held Captive was an amazing book, and I don't think I'll ever read another book like it. I can't wait to read the other books in the series, Prisoner at Heart and Bound and Determined. I can tell how much work and effort went into writing Held Captive, and I'm really grateful. We need more good books out there like this one!
So that's it for the review! Have you read Held Captive? Who is your favorite character? Did you enjoy this review? Be sure to leave a comment below and tell me your thoughts!