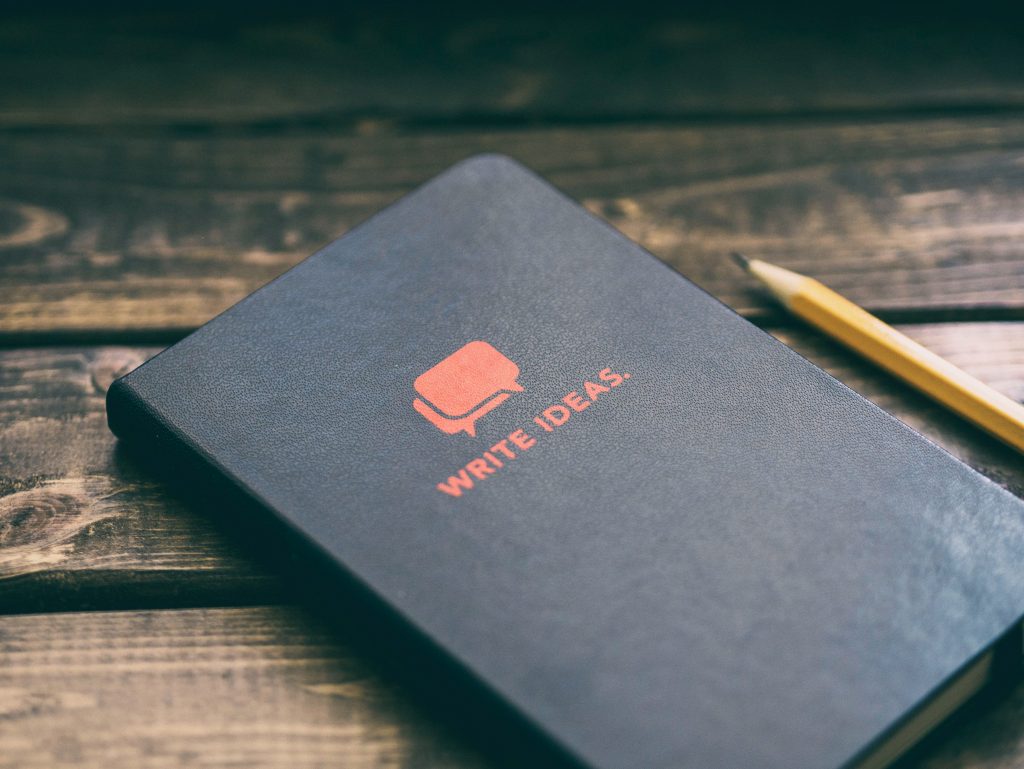 Have you ever had an awesome idea for your story while you were out running errands or just away from home, and then when you get home and are ready to implicate your idea, you've completely forgotten what it was? Writers often do this, and after a while, it gets annoying. That's why a lot of writers also have a notebook they can use to write down their ideas before they forget them. I call this type of notebook an idea journal.
What Can I put in my Idea Journal?
Random thoughts/ideas: Just write things down as you go–if you have an idea, just scribble it down to reference later.
Collages/magazine clippings: If you happen to be looking at a magazine, newspaper, or something similar, and you see a picture that you like and could be an inspiration for your story, then cut it out and put it in your ideas book.
Written scenes from a story: A lot of people like to handwrite their stories, and later type them onto the computer. I use this technique a lot, (especially since I have limited screen time), so it can be helpful when you want to write a rough draft of a scene of your book.
Character charts: You can also keep your character charts in your idea journal. There are lots of different ways to write a character chart. Some people like to write a few-sentence description, others like to fill out a chart of information about their character, and some don't even write, they draw a quick sketch of their character! Whatever way you choose to do it, character charts are a great way to go to keep information about your character safe. For some ideas, see my Character Chart Templates post.
Drawings: If you're an artist (or even if you're not!), then it's fun sometimes to keep drawings in your ideas journal. You could draw scenes from your story, or pictures of your characters, or really anything that inspires you to write.
Quotes: If you read an inspirational quote or verse, write it down! Those can be helpful when you need some encouragement or motivation.
Maps: Maps are always so fun to draw, even if you're not good at drawing them. Maps are also very good for your reference to your story, to make sure you have all the details right. This is especially true for fantasy. Just an extra little note: if you don't like drawing maps on paper and prefer to use a digital tool, then I highly recommend using Inkarnate. It does cost, but they also have a free version that gives you the basics for creating a great map.
Poems: Do you like to write poetry? Then have some fun and write some little songs in your idea journal.
Plot mapping: Plot mapping is a great way to go when you're plotting your story. The way I do it is I write a scene in my story in a box, then I write another scene below it, and put a box around that. If you have multiple ideas for the way your story could go, then you can do multiple boxes.
Writing techniques: If you get some writing advice from me or anyone else, and you want to make sure you keep that advice, then you can jot it down in your idea journal.
Word collections: If you hear a word you like, then write it down to add to your vocabulary. using different kinds of words is a great way to make your book interesting.
What are the Best Notebooks to use?
Conclusion
Well, that's about it. I hope this post was helpful to you, and if it was, please leave a comment. I love to hear from my readers!