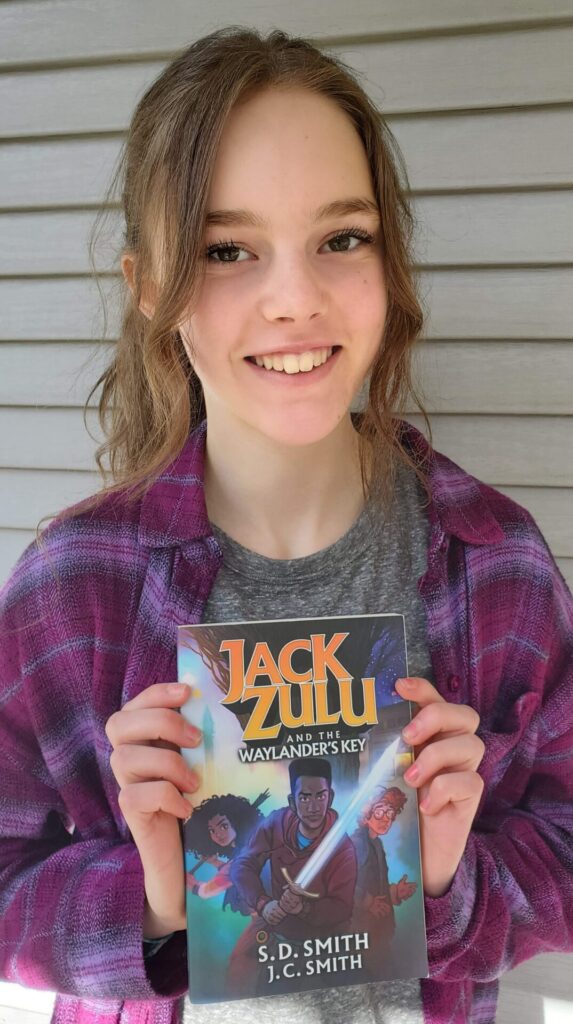 This last Christmas, my younger brother got me a signed copy of S.D. Smith's latest book, Jack Zulu and the Waylander's Key. As you can imagine, I was thrilled to own this new book! S.D. Smith has always been one of my favorite authors, and I was looking forward to reading his most recent work that was a collaboration with his high-school son.
So let's get started with the review! First, we'll take a look at the cover and blurb of the story, then we'll go through some of my personal thoughts on the book.
After reading the book in under a week, I decided that I needed to do a review of it on my blog. So here I am, nearly five months later, writing this post.
Jack Zulu and the Waylander's Key
Jack Zulu and the Waylander's Key is an enchanting adventure in the tradition of Tolkien and Lewis, as well as Spielberg and Lucas. But this fantastical journey launches in rural West Virginia in the eighties, with a half-Appalachian, half-African kid trying to escape the town he sees defining his small, sad life. Jack discovers a gate hiding a city between twelve realms, and finds out where he truly belongs in a surprising, satisfying adventure.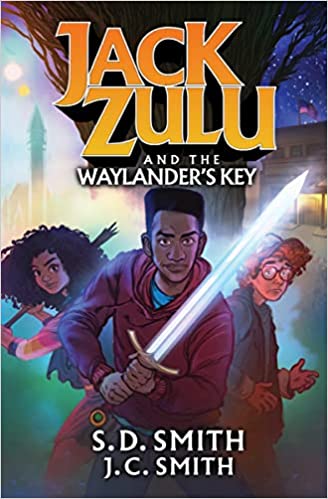 Plot
The overall storyline of this book was pretty well-done. The book held my interest the entire way through, and there were a few fun unexpected plot twists throughout.
One thing I didn't appreciate was how Jack's crush on Michelle completely disappeared after they started working together. One moment, he was super nervous around her and could hardly speak, and then the next day, they were completely comfortable around each other and acted like they had been best friends for years. If there had just been a smoother transition between the crazy-nervous-crush and best-friend relationships, then the whole thing would have made a lot more sense.
But other than that, the plot of this story was pretty solid.
Characters
The characters!!! I loved the two main characters in this story, especially Benny. He made my laugh every time! Mr. Wheeler was also an engaging side character. And what little we saw of Jack's mom was always emotional. 🥺
However, I felt that Michelle was a little too perfect, and that annoyed me. At first, when Jack barely knew her and was afraid of talking to her, it was realistic for him to think of her as "perfect", and I didn't mind that. By the near-end of the book, when Jack and Michelle became good friends, I kept looking for even a small flaw in Michelle, and she was still perfect. This made her really unrelatable and boring to read about, similar to what I mentioned above about Jack's crush on her completely disappearing.
Worldbuilding
The worldbuilding in this book was so much fun! It definitely wasn't your typical Narnia-type fantasy world that a lot of writers reuse and modify. The school system was very interesting, and I loved all the mysteries the authors left unanswered. There was no info-dumping, and the descriptions of the Wayland were always interesting to read. I have no complaints at all about the worldbuilding in this book.
Themes/Messages
The themes in Jack Zulu were also good. The theme was pretty light, as it is a middle grade book, but I still found it interesting and truth-filled.
Unfortunately… I don't remember the exact theme well enough to specify what it was. 😅I just remember feeling refreshed after reading the book, and thinking that it was really nice to have a good Christian book that actually portrayed truth.
Prose/Writing Style
The writing style was very engaging! The descriptions were also really well-written! And the dialogue felt so real, especially between Jack and Benny.
Sensitive Content
Violence – One of the characters cuts off the hand of a monster and puts it temporarily in his backpack. Jack kills a monster. Other than that, I don't remember much violence, and I don't think any of it was overly descriptive.
Sexual Content – N/A
Magic – There is a little bit of "magic", but it is all allegorical and Christ-centered.
Language – N/A
This was definitely a clean book!
Overall Thoughts
Jack Zulu and the Waylander's Key is a great book. While there were a few things with the plot and characters that weren't my favorite, I still highly enjoyed this book. I definitely recommend checking it out!
Age recommendation: 8 – 15
Star Rating: ⭐⭐⭐⭐ 4 Stars
For now, I'll let you all go. Talk to you all soon!
Have you read Jack Zulu? What were your thoughts about it? Do you have a certain book you would like me to review in the future? Let's get a conversation going in the comments!